KAYU®- Fencing & Gate™ is a wonderful way to beautify your home, keep pets and children safe, and provide privacy.  No matter what your end goal, our Exotic Hardwood  is available to make your dreams become a reality.
We offer our KAYU ® Hardwood Fencing and Gates material in KAYU ® Mahogany, KAYU ® Batu  and KAYU ® Genuine Teak.  These South East Asian exotic hardwoods create the opportunity for you to create the look you want to achieve in your home or business.
Relax & Enjoy the Moment  – KAYU® Hardwood Gallery
Let's Take it Outside!         KAYU ® Fencing & Gates
While aesthetics are always important you will also want to consider the material's durability, ability to resists water, ease of installation and versatility.  Durability, proven performance, longevity and that warm feel you can expect only from KAYU ® Exotic Hardwoods.
You can count on our KAYU team of Wood experts; the result of over 30 years importing of exotic hardwoods for the US and Canadian markets.
Start Living Your Dream
There are so many  options these days to help you create the perfect statement whether it's Classic, Elegant, Modern or Contemporary, it's up to you!   We are confident, you will agree KAYU exotic hardwoods are the finest, exotic wood material of any kind, from anywhere in the world.
At KAYU, our team has seen many architects, designers, home and business owners create fences and gates that are gorgeous and extraordinary.
Here are a few ideas for your fence or gate
Home and Businesses
Entrances
Front and Backyard Boundaries
Around Pools, Spas and Hot Tubs
Decorative Boundaries
Privacy Shields
Proven Performance – KAYU ®  Fencing and Gates
From an architectural point of view, there are many species to highlight or accent special features on your home or business. Exotic KAYU Hardwood is a very popular choice for fences and gates made from solid pieces of wood that may be installed vertically, horizontally, diagonally, or in any combination.  Choose our hardwood that suits the architectural style of your house and your lifestyle.  Now it's time to get creative, this is your place!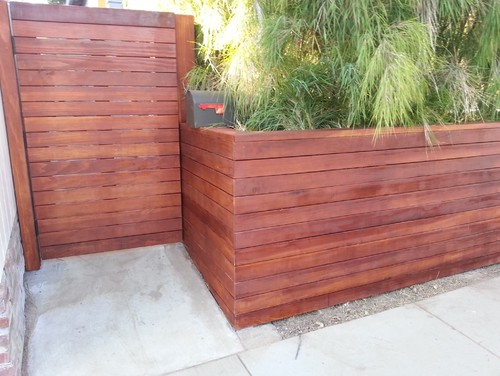 Your Potential, Our Passion – KAYU ® 
The natural beauty, durability and proven performance make KAYU® wood a natural choice for generations of enjoyment.  Over time, all hardwood decks, Gates, Fences and furniture will eventually fade and turn a soft silver-grey patina.  One of the best ways to protect your outdoor wood surfaces is to use a high-quality; oil based wood preservative.  Using an oil-based wood preservative with ultraviolet inhibitors keeps your deck surfaces looking newer longer.  To keep the wood color as long as possible, it is recommended that you treat the deck with a quality U.V. hardwood decking oil approximately every 12-24 months depending on your climate conditions.  Vertical application wood requires even less maintenance.
A Natural and Extraordinary benefit of KAYU® International's 100% real wood is that if you prefer to leave your Fence or Gate a soft silver-grey patina color for years, you can restore the look of a treated wood siding at any time.  Clean, Wash and Oil, that's it!  Brings  back the warmth and beauty.
 KAYU ® Mahogany Exotic Hardwoods|
Earth Friendly Exotic Hardwood – We do Green!
If you are looking for 100% Natural Wood, 100% Organic, with no preservative or additives, 100% Lacey Act compliant and selectively logged, sustainable exotic hardwood, look no further than KAYU  ®  International.  At KAYU International, we are certified with the Forest Stewardship Council standard and control (FSC). Naturally resistant to rot, insect attack, fungus, decay and class A' fire rating.
Contact the KAYU wood experts for samples and pricing
KAYU ® International has provided decades of High Quality Lumber, Dependable Service at Affordable Prices for more than 20 years of importing exotic hardwoods for the U.S. and Canadian markets.  Our Owner and President, Steve Wilson, has been in the Lumber Industry for more than 40 years and began Importing Lumber from SE Asia in the early 80's. He continues to acquire KAYU's Exotic Wood from many of the same Mill Owners that he has for past decades.  With this level of experience and success you can be reassured that you will be getting the products you need and the service you deserve.
Do You Have Additional Questions?
For more information about Kayu ® International, Inc. and the services/products we offer, you can visit our official website through this link www.kayu.com or Kayutruckdecking.com. Based in the USA we can offer you with the best solutions possible at affordable prices.
Decking Delivered Directly to your Home or Work Site across the U.S.A. and Canada.  
fill in the form below and one of our KAYU wood experts will respond.
Kayu ® International, Inc.
11117 SW Greenburg Road, Tigard, Oregon 97223